Online CDR Writing Services to Boost Up Your Career
Students from across the globe move to Australia for their further studies and career opportunities regularly. With all the resources, great living standards, and handsome payouts, Australia is one of the most desired countries to work in. CDR or a Competency Demonstration Report is a document which is required by the Institution of Engineers Australia, more commonly referred to as Engineers Australia, to analyze the candidates who are applying for a career in the field of Engineering. While some applicants write their report by themselves, the majority of applicants turn to CDR writing services to help them in submitting a report that is not only trustworthy but also good in quality.
After completing their Engineering, students often feel the need of moving abroad and starting their careers. However, it takes a lot of hard work to land a job or get an admission in a reputed organization of Australia as you have to meet certain standards set by the country. To analyze whether you are eligible or not, your CDR is considered to be your representative. A competency demonstration report is a report which is required to be written by the applicant to introduce their academic and career achievements to the organization in which they are applying. If you are one of those who are well aware of the requirements but are unable to write a report on your own then we would suggest that you take our CDR writing help services as you can not risk your career by attempting to write one with flaws. Global Assignment Help is one of the finest homework help providers and cthrough our CDR writing services we can assist you in completing your CDR writing without you having to go through any trouble.
What Is the Role of a CDR Report Writing for an Engineer in Australia?
A CDR is also known as Competency Demonstration Report is a document majorly required by CDR engineers Australia that can help them secure a great career in the country. Every student is evaluated based on their competency and to understand it well, CDR is required. If you are a student of technical studies and want to pursue your higher studies from Australia or you are looking to explore the tremendous resources and opportunities available in Australia for engineers then you will require help from CDR writing services to submit a CDR report which will represent you in front of the evaluating committee.
For any CDR Engineers Australia or a student from a technical background, Availing CDR report writing help is really important as their career depends on it. CDR is considered to be the backbone of a job application for aspirants as this document includes the main highlights of their career and personality which will decide whether the Engineers Australia will allow them to create a career in Australia or not. Our professional CDR writers Australia will help you in creating a stunning report through their CDR writing services which will help you break the barriers between you and a great career. You can also get term paper writing services from experts while studying in the college.
Must-Follow Guidelines to Keep in Mind While Writing a CDR Report!
One of the biggest mistakes that you can do while writing your report and curating all the data is forgetting the way of writing and formatting your report .While writing a CDR report there are a certain guidelines issued by the CDR Engineers Australia that you need to take care of while completing your report. A lot of people are unaware with these guidelines and end up failing the task of completing their CDR report writing with precision. If you are also looking forward to writing your report by yourself and not from CDR writing services but are unaware of all the rules that you need to follow while writing then we suggest that you should stop wasting your time and reach out to us for seeking CDR writing help.
Some important Guidelines issued by the official body of Engineers Australia are as follows -
Make sure that every single information in your CV is relevant and is listed in chronological order. It is really important to take care of this as your CV is the overall summary of your achievements and you don't want to make a bad impression of yourself by sacrificing the required format.
Always use a list format to mention your continuous professional development. The CPD is an important section of your report and you should always follow a particular order in listing them down. As per the practices of our professional CDR writers Australia, listing your CPD in a list is recommended by the CDR Engineers Australia Association.
Always write all the career episodes in English. Your mother tongue might differ but in order to create a mutual understanding, you have to write everything related to your career episodes as well other thing sin your report using nothing else but English. If you think it is tough for you just search for CDR writing services for help.
A career Episode must be written in first person and highlight the important contributions that you have made while working on that particular project.
Every Paragraph of your career episodes needs to follow a numbering system which goes like -

Career Episode 1 - Paragraphs ( 1.1, 1.2, 1.3 .....)
Career Episode 2 - Paragraphs ( 2.1, 2.2, 2.3 .....)
Career Episode 3 - Paragraphs ( 3.1, 3.2, 3.3 .....)

every episode should look like an individual essay. There must be no inconsistencies between any of the career episodes.
There is only 1 summary statement written in which you have to summarize all the career episodes combined. No separate summary is required.
All the paragraphs ( If necessary) must be cross-referenced by using their numbers in the summary statement.
All the above-mentioned points are issued by Engineers Australia and are required to be followed while writing your CDR report. If you find trouble in coping up with all these rules and regulations you can simply avail CDR writing services from our CDR writers Australia.
How to Write a CDR Report? The Professionals' Way!
Competency Demonstration Report (CDR), is one of the most important documents for a student who is thinking of moving to Australia for a career in engineering. There are a lot of people who wonder how to write a CDR report as they can't afford to get this wrong. Well, if you are also looking to get a perfect CDR then your search ends here. We are one of the biggest names in CDR writing services for CDR engineers Australia and can help you to nail your report. It is true when people say that competency demonstration report writing is not an easy task as there are different sections in it and each section requires a different approach to be completed, however, you don't have to get tensed about it as we are here to save you from all the stress. All our writers are well equipped to provide you with CDR writing help.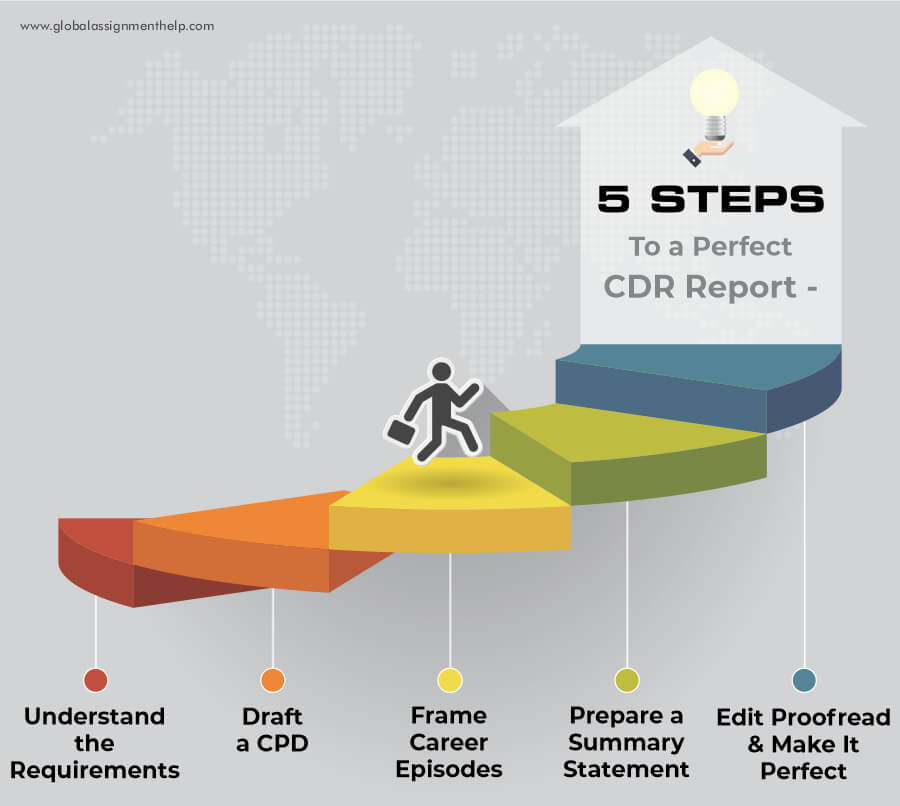 When our CDR writers Australia take up the task of completing a report, they follow the steps mentioned below -
Understand the Requirements- While working on any of the tasks related to writing, the first and foremost step is to understand what is the requirement of the document? Our CDR report writers first set an aim and then move in the direction of achieving it. If you are writing your CDR by yourself without availing CRD writing services, you need to realize the goal you want to reach and accordingly start writing it. If you require to get a job in Australia, you will require a different approach whereas if you are looking for further studies in the country, you will have an alternate plan.
Draft a Continuous Professional Development- The CPD is a very important section of a CRD report. This section includes every single effort of yours that you have taken to enhance your skills and develop with time. As you already know, technology is a field that is evolving every minute and every opportunity out there is up for grabs for those who are well aware. This section reflects your ways of learning and it can include information about your academics, your experience of mentoring or volunteering, articles you have written, projects you have prepared/worked on.
Frame Career Episodes- After the CPD comes the most important section of your report, the career episodes. This section is where things can go extremely in your favour or against you. This is a section in which usually a person has to define the experience of working on different projects in their academic and professional career in detail. Usually, it is a 1000 - 2500 thousand words essay for each episode which has 4 sections namely Introduction, background section, engineering activity, and conclusion. Note that to write an effective report you need to have a minimum of 3 career episodes. Our CDR writers Australia while providing CDR writing services have written an ample number of reports so they are the perfect people to complete this section for you.
Prepare a Summary Statement- After completing your essays you need to prepare an overall summary statement, which summarizes all the 3 career episodes that you have written. In this section, you need to give a glimpse of your learnings and what was the overall gain or loss from that experience. Try to state your engineering skills that you applied or learned in the process of working. This summary statement is the outcome of all three experiences so you better give it a good thought before writing it. Our CDR writing help providers make sure that the summary statement is drafted perfectly while providing CDR writing services.
Edit Proofread & Make It Perfect- After you have completed all the major sections in your CDR writing, it's time to take an overview of what you have written as well as analyze it for errors and mistakes. Read your report again and again to refine the quality of words that you have used. Keep in mind that this is not just any other document, it will decide your future and you don't want some silly mistakes to ruin your chances.
All these steps are crucial to complete a perfect CDR report. With all the above steps mentioned, it is understandable that not everyone can complete this task and that is why we provide CDR writing services to our customers. If you are also struggling with your report, allow us to take over and see the magic.
Stuck with Your CDR? Let the Best CDR Writers in Australia Help You Out!
By now you must have realized the efforts that it takes to create a CDR that not only speaks on your behalf but also puts you in a good light in front of the person who is analyzing it. One of the biggest minus points of writing a CDR report by yourself is that you don't know what words to use, what flow will be engaging, and which qualities should be enhanced. If you are also one of those who are struggling with their CDR writing then your struggle ends here. Our writing help is one of the most preferred CDR writing service for engineers Australia. As a responsible writing service, we have been active for a decade now and what we have achieved is the trust of all our customers. You can find various testimonials on our website which are written by our clients who have benefited from our CDR writing help.
When you ask our experts "Write my CDR", you not only get a well-written report but you are also entitled to some of the exclusive benefits offered by us which include -
100% Professional Writers - While a lot of services outsource these tasks to freelance writers, we understand the importance of CDR writing help and that is why we have an in-house team of professional writers who have a great amount of experience in writing such documents. All the writers in our team are hired after they have passed a strict screening test. If you are looking for a good job after completing your engineering then you can also ask for resume writing services from our professional writers
Dedicated Customer Support - There are a lot of times when you might want to enquire about anything or want to clear your doubts. For both the scenarios we have a dedicated team of customer support who are available for you 24 hours of the day, every day. You don't have to hesitate before asking any of your doubt. We are said to be the number one providers of assignment help Melbourne and the reputation of our services speaks for itself.
Proper Confidentiality - We know that you availing our CDR writing services is nobody else's concern but yours and that is why we make sure that everything that you ask us to do remains 100% confidential. We assure you that no details are disclosed to anyone else other than you and the writer. We are very strict about our privacy policies and that is why we take special precautions so you don't have to worry about it.
Guaranteed On-Time Delivery - No matter what your requirements are, we are always there to complete all of them and that too under the given time. All of the CDR report writers are well equipped with all the necessary skills which make them effective and helps them to complete your CDR without any delay. This also helps you as you receive your document before the deadline of submission so that you can crosscheck it.
Free Edits and Revisions - You can ask our expert CDR engineers Australia to revise your report at any point in time before your submission date. There are a lot of scenarios where you might forget a crucial point to be mentioned and remember it later. Well, there is no need to panic if you have forgotten to mention something as you can always get your report added and anything can be added or removed from it. We promise we won't charge you anything for that.

Other than these special features you are also in to save some cash as our CDR writing services are available at really affordable prices in fact we are the only place that students reach out to when they are looking for assignment help in Australia, so fair pricing should be one of your least concerns.
Keep in mind that a CDR is not just any other piece of paper, it is a document that can change your entire fate. Do not risk your career, get expert CDR writing help today!
What Our Happy Customers Have to Say?
I was on the verge of breaking down as my CDR always used to get rejected. One of My cousins asked me to take online CDR writing help and thanks to you folks my application got selected. Amazing efforts guys Thank You!

My previous application was rejected by engineers in Australia because of the lack of details in my CDR. Thanks to you guys I got my job in my dream city. You guys are amazing. Highly Recommend.

Got my CDR report completed with 35% off! The best deal I could ever get. The service is great and they delivered my document before time. Could not ask for anything more. Highly Recommend.
View All Review