Website
Book
Journal article
More
OR
Enter Manually
WHAT IS AN APA CITATION GENERATOR?
An APA citation generator is a software tool that will automatically format academic citations in the American Psychological Association (APA) style. It will usually request vital details about a source -- like the authors, title, and publish date -- and will output these details with the correct punctuation and layout required by the official APA style guide.
Formatted citations created by a generator can be copied into the bibliography of an academic paper as a way to give credit to the sources referenced in the main body of the paper.
Some other reasons to use our APA citation online tool:
It is free and does not require any registration.
You can alternate between books, magazines, newspapers, or Youtube sources.
You can generate citations automatically and have all the indents right.
You make things fast even if you do not have sufficient information.
Need a different APA Citation format?
Accurate citations and bibliographies in just few clicks!
Hire Experts
APA IN-TEXT CITATIONS
APA in-text citations include the author's last name, publication date, and, if relevant, a locator such as a page number or timestamp. For example, (Smith, 2021, p. 170). See it as a shorter version of the entry in the reference list.
You should include in-text citations every time you're quoting or paraphrasing someone else's ideas or words. In doing so, you give credit to the original author and avoid plagiarism.
Parenthetical vs. narrative citation
The in-text citation can take two forms: parenthetical and narrative. Both types are generated automatically when citing a source with Global Assignment Help APA Citation Generator.
EXAMPLE
Parenthetical citation
In parenthetical citations, the author's name and publication date appear in parentheses. When a parenthetical citation is at the end of a sentence, place the period or other end punctuation after the closing parentheses.
In the production process nowadays, skilled labor and computerized machines are used (Rode, 2012).
EXAMPLE
Narrative citation (with parenthesis)
In narrative citations, the name and publication date is incorporated into the text as part of the sentence. The author appears in running text and the date appears in parentheses immediately after the author's name:
Rode (2012) claims that productive activities have been part of human civilization since ancient times.
EXAMPLE
Narrative citation (without parenthesis)
In some cases, author and date might both appear in the narrative. In this case, no parentheses are needed:
In 2012, Rode wrote about the productive activities...
EXAMPLE
Multiple parenthetical citations
If you cite multiple works parenthetically, place the citations in alphabetical order, separating them with semicolons, like in this example:
(Adams et al., 2019; Shumway & Shulman, 2015; Westinghouse, 2017)
EXAMPLE
Multiple sources in a sentence
If multiple sources are cited within a sentence, they can appear in any order:
In 2012, Rode wrote about the productive activities...
If you cite a work with more than one author or editor, additional rules apply:
If a work has two authors, cite both names every time the reference occurs in the text.
When citing a work with 3-5 authors, cite all authors the first time the reference occurs. After the first time, you only need to include the last name of the first author, followed by "et al."
When citing 6 or more authors, use the first author's last name followed by "et al." for all citations.
Basic in-text citation styles
| Author type | Parenthetical citation | Narrative citation |
| --- | --- | --- |
| One author | (Smith, 2020) | Smith (2020) |
| Two authors | (Smith & Jones, 2020) | Smith and Jones (2020) |
| Three or more authors | (Smith et al., 2020) | Smith et al. (2020) |
APA REFERENCE LIST
The reference list at the end of your paper provides the information that a reader would need to identify and find each source that you have used. An accurate reference list helps to establish the credibility of your work and of yourself as the author. You should only include works that you have used in the research for, and preparation of, your paper.
A reference list generally has four elements: author, date, title, and source. Each of these elements answers a question:
Author : Who is responsible for this work?
Date : When was this work published?
Title : What is this work called?
Source : Where was the work published?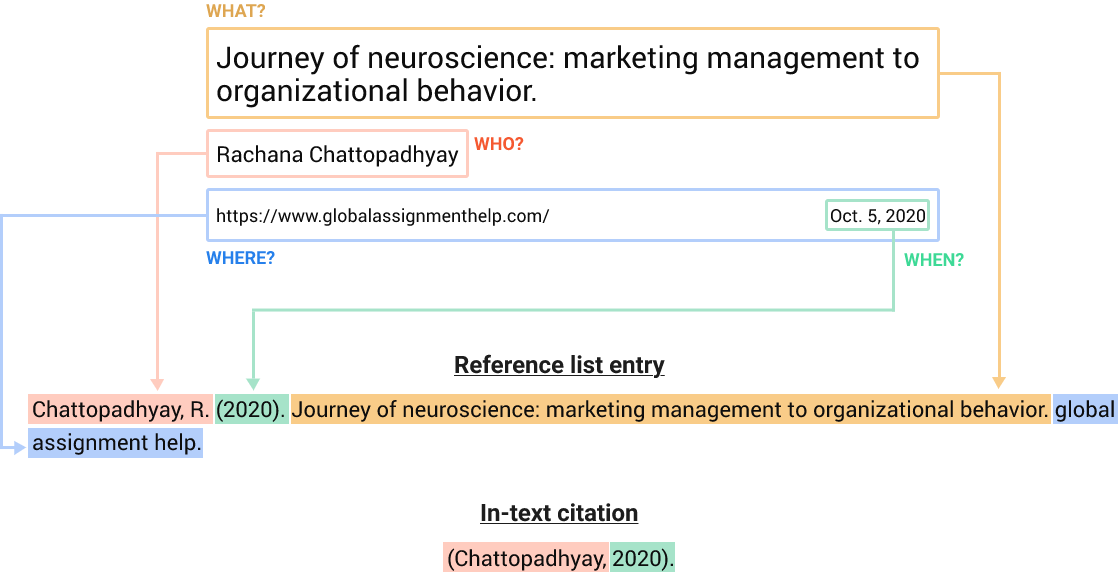 Edit A Website
Edit in any additional information you have about your source